It was an exciting riding this Canada Day long weekend, a ride with friends on Sunday and then watching the odometer turn 100,000km on my bike while riding on Canada Day!
On Sunday morning, two Harleys, a Ducati and my Honda set out for an afternoon of riding, proving once again that it doesn't matter what you ride, as long as you ride.  Since we were in the Collingwood area a route was planned that would take us along country roads, through the escarpment and visiting some waterfalls in the area, all in enough time to get us back home for dinner.  I looked at my odometer before we left, it read 99,668km.
Our first stop was a place called Eugenia Falls (just outside of Flesherton on Grey County Road 13). These falls turned out to be a real hidden gem. I don't think I have ever visited them before but know for sure I will be back. Next time I will do some hiking along the trail and take in more of the area. We were soon backing on the road exploring grey County. Since it was a long weekend we saw a lot of police out patrolling the highways, we stuck mainly to the back roads but I still kept myself aware of my speed, the last thing I wanted was a speeding ticket to put a damper on what was turning out to be an awesome day. After lunch it was off to another waterfall, Walters Falls. Walters Falls was also a very beautiful spot but not as remote as Eugenia Falls. The site has an Inn and Spa on it and a wedding was being set up when we arrived. I would imagine it would be a nice place to stay for a night or two, especially if you like the sound of running water and are willing to take advantage to the hiking trails in the area. We rode around for another hour or so, each breaking off at different points in order to get home for dinner. When I arrived at my girlfriend's cottage near Big Chute I checked the odometer again and it read 99,985 km.
I decided that it would be a great way to celebrate Canada Day, take my girlfriend on an early morning ride in the country (only her 3rd time on a motorcycle), watch the odometer turn 100,000km and enjoy the tranquility of the rural roads. Fifteen kilometers seems far when you are watching the odometer and trying to concentrate on the road and your passenger at the same time, but it finally turned.  100,000 km on my bike, the bike I bought brand new on March 21 2010 !!  We pulled over, took photos, I had a million flashbacks from my motorcycle trip to Argentina before we finally got back on the road.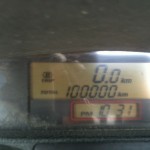 We took the back roads, took in the scenery and occasional sightings of wildlife and just enjoyed the ride, until we got chased by the big dog!! He was sitting at the end of his driveway, not really paying much attention to us and then without warning he broke into a run, barking and coming right at us.  For me this was common, in Mexico and Central America dog just ran loose and always seemed to chase me.  I was not worried and quickly outran him.  Everything was fine until I realized we were on a dead end road and I would have to pass "Cujo" one more time. As we approached the house I could not see the dog anywhere and assumed his owners tied him up of took him inside. Then I heard my girlfriend shout "he's coming. He's coming', I looked in my mirrors and did not see the dog and assumed that her had stopped running as it is rare that dogs chase me too far past their owners property. She was still shouting and I checked my mirrors once again, and there he was, running at full speed barking and growling just like "Cujo". I hit the throttle and got the hell out of there. I think she is still mad at me for not believing her the first time she started shouting, but has agreed to ride with me again. Next time I am taking bear repellant.