With my 1,500 mile form signed it was no just a matter of crossing into Mexico and completing the Border to Border. I followed the signs, paid my told and entered Mexico, 3 minutes from the hotel, easy. Now I had to find someone to sign my witness form – not so easy. None of the border / customs guards would sign the form, they made long winded excuses about it not being an official customs form. I asked locals, no response, they just ignored me. I was not too worried about getting my iron butt Form signed as I had other ways of proving I was in Mexico, I had my SPOT device and Toll receipts so after 30 minutes of asking people to sign my from I headed back to the USA.
As soon as the border guard heard my answer to "how long were you in Mexico" he slapped a big yellow sicker across my windshield and told me to take my bike to secondary. I guess not a lot of people go to Mexico for "30 minutes". The border guards at Secondary Inspection were, lucky for me, motorcycle enthusiasts. We chatted about my ride, my bike the new Honda Africa Twin and of course the heat. It was 104F when I crossed into Mexico. One of the guards was nice enough to sign my Iron Butt form, so I was now officially done. Three Iron Butt rides in under 36 hours.
The only thing left to do now is ride home and fill out all the required paper work for the Iron butt Association.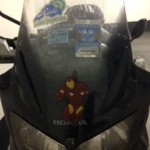 ankara escort
eve gelen escort
gaziosmanpaşa escort
keçiören escort
kızılay escort
kolej escort
maltepe escort
mamak escort
ofise gelen escort
otele gelen escort
rus escort
sihhiye escort
sincan escort
tandoğan escort
tunalı escort
türbanlı escort
ulus escort
yenimahalle escort